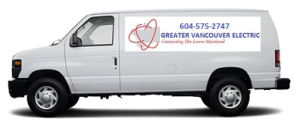 About the Company…

Greater Vancouver Electric Inc was established  to provide quality Electrical Services to the Lower Mainland of British Columbia. Our Electricians are dedicated to providing superior service, giving serious attention to detail that customers both expect and deserve.  We are fully bonded and insured and all of our electricians are fully licensed and qualified.  

Concerning  Experience…

With over 20 years in the field, we have the know how to take care of all of your Electrical Service Needs. Our Electricians are professional, well trained, courteous, and focussed on providing you with the skills to get the job done quickly and to your satisfaction.

Our Commitment…

Quality: Our dedication to the quality of our work exceeds what you would expect from other Electrical Contractors. Our attention to detail, efficency, and desire to help , set us apart. 

Timeliness: Every effort is made to finish each project not only to your satisfaction, but also on time. 

Value: We set fair and competitive prices. We give you a 100 percent guarantee on all work that we do. We will provide you with free estimates and always be upfront with our pricing to you.